Revit MEP Templates And Families Creation
Trainer

Thafer Asqalan

Place

Omniplan

Fee

250 JOD

Av. Seats

3

Schedule

01/05/2020 → 11/06/2020

Sun, Tue, Thu

06:00 PM to 08:30 PM

duration

40 Hrs

Registration Closed
Course Information
Overview
هذه الدورة هي ذات مستوى متقدم في برنامج Revit, وتُعتبر خطوة تالية ومهمة جدًا لكل مهندسي الكهرباء والميكانيك والميكاترونيكس الذين تلقوا دورة Revit MEP سابقًا, أو يعملون في الشركات, أو حتى الذين اجتازوا الامتحان الاحترافي من شركة Autodesk.
This course is an advanced level in Revit, and is a very important next step for all electrical, mechanical and mechatronics engineers who have previously received Revit MEP, work for companies, or even have passed the Autodesk Professional Exam.
---
حيث تم إعداد المحتوى بطريقة لتغطية كل ما لا تتم تغطيته عادة بدورات Revit MEP, لهذا فإن المشارك بعد هذه الدورة سيتمكن من التعامل مع برنامج Revit بطريقة احترافية جدًا, وسيكون جاهزًا للعمل في كبرى شركات التصميم والمقاولات.
The content is prepared in a way to cover everything that is not usually covered by Revit MEP courses, so after this session the participant will be able to deal with the Revit program in a very professional manner, and will be ready to work in major design and contracting companies.
---
objectives
المحتوى سيركز بشكل رئيس على متطلبات سوق العمل وما تحتاجه شركات الاستشارات الهندسية و المقاولات, حيث يركز محتوى الدورة على ثلاثة أمور رئيسة:
1) تنظيم العمل الجماعي لأفراد الفريق والتنسيق فيما بينهم وهو ما يدعى Collaboration
2) تصميم Templates خاصة بالشركات من الصفر, والتعديل على Templates موجودة
3) تصميم Families المختلفة لمجالي الكهرباء والميكانيك بشكل احترافي جدًا
The content will focus mainly on the requirements of the labor market and the needs of engineering consulting and contracting companies, where the content of the course focuses on three main things:
1) Organize the teamwork of the team members and coordinate among them which is called Collaboration
2) Design corporate templates from scratch, and modify existing templates
3) Design different families for the fields of electricity and mechanics very professionally
---
لهذا فإن المشارك يجب أن يكون ممارسًا لبرنامج Revit, أو اجتاز امتحان ACP, أو على أقل تقدير يجب أن يكون قد تلقى دورة Revit MEP قبل انضمامه لهذه الدورة
Therefore, the participant must be a Revit practitioner, have passed the ACP exam, or at least must have received the Revit MEP before joining the course.
Audience
Mechanical Engineers, Building & services(Design execution, supervision)
Electrical Engineers
Mechanical Engineering students
Mechanical Engineering students
MEP Draftsman
مهندسو الميكانيك, خدمات المباني, تصميم ,تنفيذ,اشراف
مهندسو الكهرباء,خدمات المباني,تصميم,تنفيذ,اشراف
'طلاب الهندسة الميكانيكية
طلاب الهندسة الكهربائية
رسلمو الاعمال الكهربائية و الميكانيكية
Outline
 Module 1: Work-Sharing

Local & Central Files
Synchronize
Work Sets
Coordination Review and Clash Detection
Requests

Module 2:: Parameters

Project Parameter
Family parameter
Shared Parameter
Global Parameter
Module 3:Template creation (first steps)

Creating a template from scratch
Edit exist template
Save project as a template
Levels
Elevations
Sections
Project Browser Organization
Add sub-discipline parameter
Unit settings
Project information
Module 4: Template creation (Annotations)

Text Style
Line Style
Line Weights
Line Patterns
Fill Patterns
Dimension Styles
Symbols
Keynotes
Import symbols from CAD
Tags
Module 5:Template creation (Schedules)

Count schedule
Formula schedule
Sheet schedule
Module 6:Template creation (Sheets & Drafting)

Sheets
Drafting views
Legends
Components
Import drafts

Module 7:Template creation (Global Settings)


Materials
Snap settings
Starting View
Load required families
Save project as a template

Module 8: Basics of family design

Reference line
Reference plane
Work plane
Create geometries (extrusion, blend, revolve, sweep, etc….)
Model Line
Model Text
Symbolic line
Connectors (duct, pipe, electrical, etc….)
Add parameters
Family Category
Modify on family and create types

Module 9:Exercises on family design

Receptacle
Panel
Junction box
Transformer
Lighting Fixtures (pendant, recessed, track)
Light switch
VAV box
Duct accessory
Duct fittings
Pump
Hunger
Air terminals
Testimonials
" من اروع الاماكن اللي درست فيها Omniplan Autodesk وذلك لدقة المواعيد، المصداقية، الحرص على اعطاء المعلومات القيمة والحديثة جدا، اعطاء امثلة حية من الواقع وتطبيقها مباشرة ... بارك الله جهودكم وجعلكم من المتفوقين دائماً. ♡♡♡ "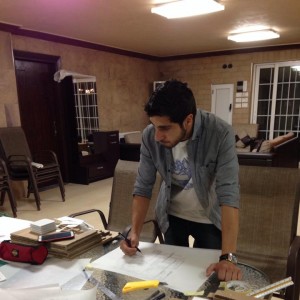 " A highly performance tutor with perfect atmosphere and a good feedback .thanks a lot for your efforts "
" First of all, I had some mystery at every stage  I learned it,  when I looked for  studying Revit program , so I was inevitable to learn such programs; especially they are the language of the future, and  I was encouraged to study it by the office that I work in it , so I  joined to Omniplan cente